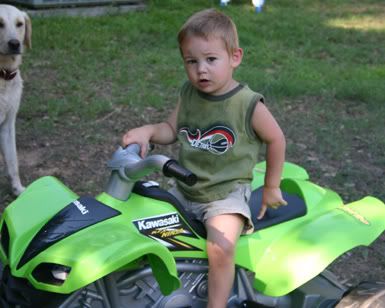 2003-05-02 ~ 6:04 p.m.
getting ready and belly pic
Here is my belly picture from yesterday:
It will be in my belly gallery later too.
Chase has been super active today! YAY for me! I love it! We are cleaning out our room today to make room for his bassinet pack n play thing (that I bet just sits there and we rarely use! lol)So we should have that set up this weekend! YAY
I am going to take my 3 hour GTT tomorrow so wish me luck. I know I will fail it already, so I am not hoping too much though. Not looking forward to having to fast, and not looking forward to having to be poked 4 times in the same arm (they have to use the same arm because no one can find the vein in the other arm and I refuse to let them poke me more then they hgave to) and I have to drink that nasty drink again. I was so sick after the one hour test I know it will be bad after this one.
I still don't know why I take these test. There is no proof that getting gest. diabetes late in pregnancy really has any effect on the baby. People with GD who do not follow the diet or have to go on insulin have babies the same size as those who do follow the diet and such. So in one way I don't see why I take the dumb test. I have been watching the sugar intake and doing my best here, but on one hand I feel like if I didn't do everything possible and something did happen or something I would blame myself for not doing enough you know??
Anyway Brian and Noah went to hte storage building to drop off some things, I need to go get dinner started so it wil lbe ready when they get back. Jaidyn is so flithy right now from playing outsdie its funny.
Anyway all is good in my world, and Chase is good, and I will update tomorrow and let you know how awful the gtt test went! lol
Older entries / Profile / Host
Guestbook / Email
Notes