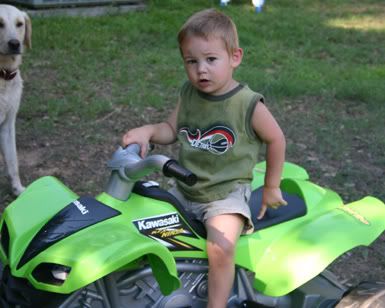 2004-07-21 ~ 7:56 a.m.
1 year pictures for you
I have Chase's 1 year pictures on here to share with you now! YAY. Can you believe he is 13 months old already? Its been a month since he turned 1 already!
Anyway I took a picture of the pictures so they may not be the best quility but they are wonderful pictures of him (I think anyway!)
With the number 1 of course! He put his hand up there and posed all on his own!
I love the grin he has in this picture. Its so totally him!!
I like this one a lot too!
My little man with a train
this is my least favorite but its still so cute!!
Those are the 5 poses I got! They took like 3-5 pictures with each prop and background and I just picked my favorite picture from each set and got them! :)
Also Chase went to sleep in his highchair after dinner. Bri and I were sitting at the table talking about all the Wyoming stuff and we looked over to see him asleep! lol
He has never done that before. Well actually he normally won't even sit in the highchair! lol
Anyway that is our update for now!! I will be updating his year in pictures page soon with his birthday picture and one of his 1 year pictures! Then its time to start the 1-2 year picture page :(
Older entries / Profile / Host
Guestbook / Email
Notes